The Group
An expert is a person who has made all the mistakes that can be made in a very narrow field.
Niels Bohr
The Gay Group is composed of a fantastic collection of minds who conduct the incredible research being done in the lab. From all levels and backgrounds, both past and present, the members of the group emerge from the depths of the Jorgensen basement to introduce themselves to you on this page.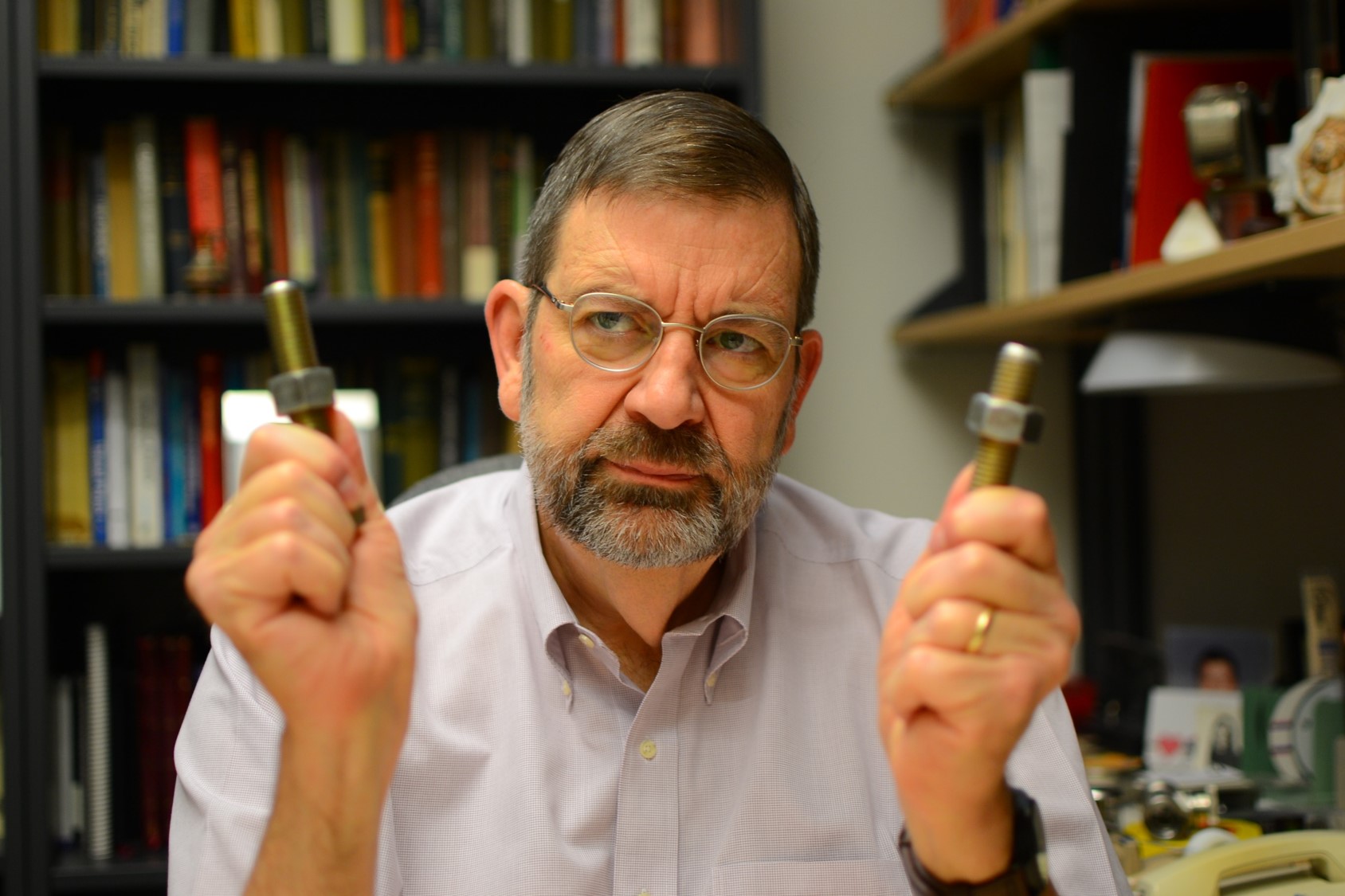 Tim Gay
Timothy Gay was born in Ashtabula, Ohio on 23 March, 1953. He was raised in Pleasant Hill, Ohio, a farming community of 1000 people in western Ohio. An only child, his parents (both now deceased) were William Gay, a pastor in the United Church of Christ, and Annabeth McClelland Gay, a church musician. Gay attended Phillips Academy in Andover, Massachussets, graduating in 1971. At Andover, he was the manager of the varsity football team his senior year. Players on that team included Bill Belichick, the coach of the New England Patriots, Ernie Adams, Director of Research for the New England Patriots, and Milt Holt, a former State Senator from Hawaii and the starting quarterback for Harvard for four years.
Gay got a B.S. in physics from the California Institute of Technology, Pasadena, California in 1975. While at Caltech he played tackle for its football team, a squad so notoriously inept that it was profiled by the Wall Street Journal in the fall of 1974. (A typical Caltech season record was 1-7, against such football powerhouses as LaVerne College, Harvey Mudd College, and the University of California - Riverside (freshmen).)
Upon graduating from Caltech, Gay matriculated at the University of Chicago, where he earned his Ph.D. in Experimental Atomic Physics in 1980. He then worked as a Research Physicist and Lecturer at Yale University until 1983, when he joined the faculty of the Missouri University of Science and Technology. Since 1993, he has been on the faculty of the University of Nebraska – Lincoln, where he is now the Willa Cather Professor of Physics.
Gay's research interests center on the scattering of electrons by atomic and molecular targets and elementary particle physics. His research group, comprising two postdoctoral fellows, three graduate students, and four undergraduate students, is funded by the National Science Foundation. During his career, Gay has been the principle investigator on more than $7 million of grants, and has published more than 100 articles in the refereed scientific literature, including two books. He is a Fellow of the American Physical Society and served as its Speaker of the Council in 2018.
Gay married Anna Christine Nothstine of St. Charles, Missouri in 1975. They have two children, Frederick and Bertram. Besides being a rabid Cornhuskers fan, Gay's hobbies are Civil War history and rock-and-roll music.
Postdocs
Keith Foreman
Dr. Foreman is an Assistant Professor of Practice at the University of Nebraska-Lincoln. He was born and raised in Iowa and has been interested in science for as long as he can remember. He graduated from Buena Vista University (BVU) in Storm Lake, Iowa with a BS in Physics. During his time as an undergraduate, he contributed to several condensed matter physics and surface science projects at BVU, and participated in a Research Experience for Undergraduates (REU) project at UNL. The REU project, constructing and characterizing solid-state boron-carbide based neutron detectors cemented his decision to pursue a Ph.D. in condensed matter physics at UNL under the supervision of Prof. Shireen Adenwalla. Keith's graduate research project focused on organic ferroelectric thin-films and the magnetoelectric coupling between these films and ferromagnetic thin films, working toward voltage-controlled magnetism.
After graduate school, Keith decided to branch out into other areas of physics, and joined Dr. Gay's atomic, molecular, and optical physics research group as a postdoctoral research fellow. After joining the UNL Physics Department as an Assistant Professor of Practice, Keith remains a member of Dr. Gay's research group continuing the work he started as a postdoc: designing and constructing an optical polarimeter capable of measuring the polarization state of light to unprecedented accuracies.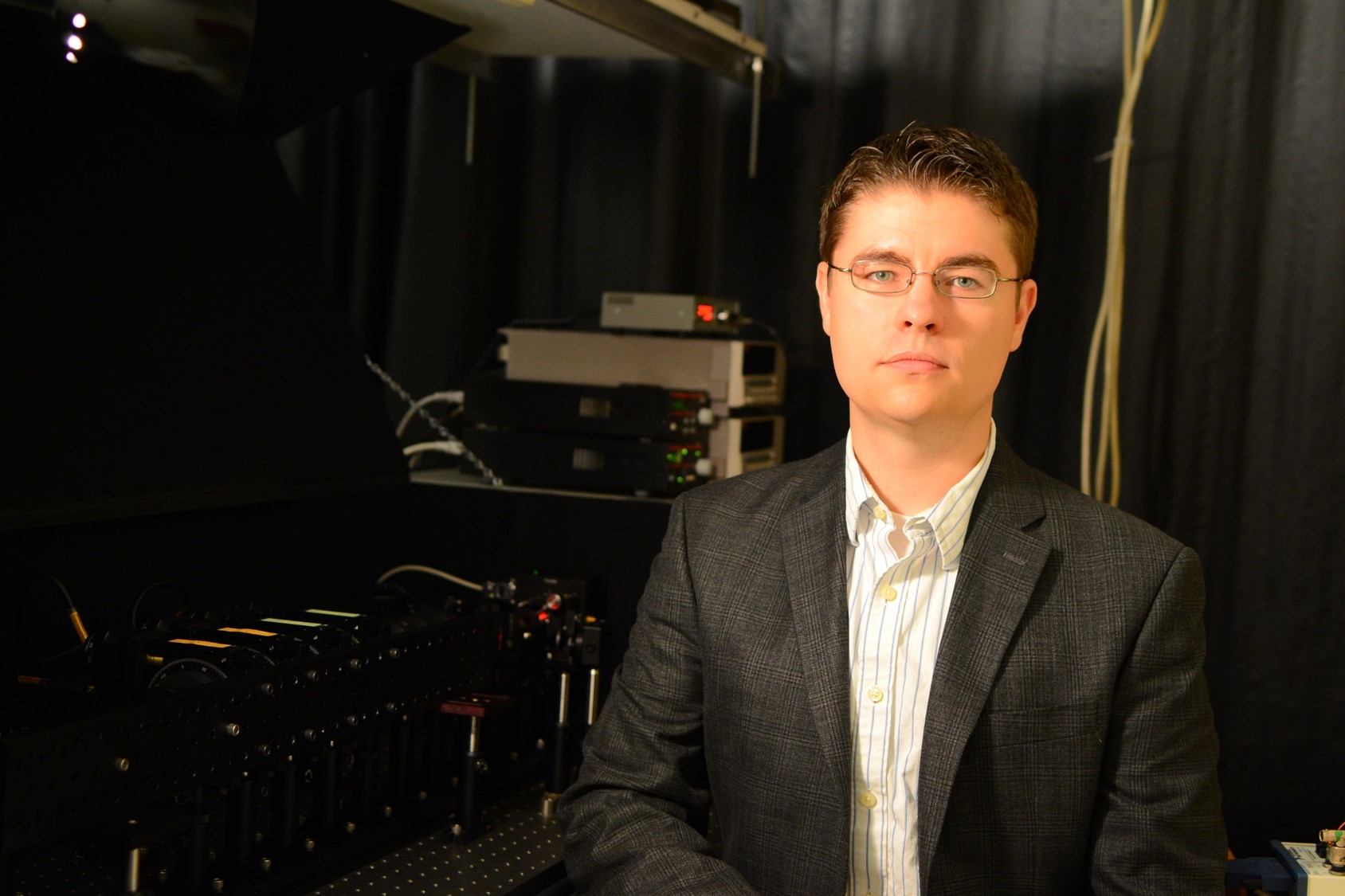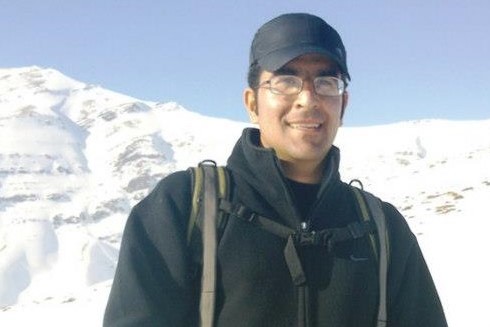 Sam Keramati
Sam is a postdoctoral associate working for both the Gay group and Herman Batelaan's research group at UNL. He is currently working on the Mott spin-polarimetry and the fermionic Hanbury Brown-Twiss experiments, using ultrashort pulsed free electron beams. His academic and vocational interests include various topics in and related to atomic, molecular, and optical physics, ultrafast lasers, ultrashort free electron physics and applications, and high-order matter-wave interferometry. Outside the lab, Sam enjoys pondering the ever-engaging subjects of the philosophical foundations of quantum physics and the philosophy of science as a whole. He takes interest in intriguing historical events, and also likes to get away to go hiking from time to time. Sam's musical interests are wide, and include classical violin at one end of the musical spectrum to heavy, or thrash, metal music at the other.
Grad Students
Karl Ahrendsen
Karl has been slowly traversing westward throughout his education, starting at the birthplace of the 4-H Emblem, Clarion, IA. He then traveled 90 miles west to Storm Lake, Iowa where he graduated from Buena Vista University with a BS in Computational Physics and Computer Science/Mathematics. He spends his time in the Gay Group wrangling with the Rubidium Spin Filter project. Karl chose physics because he liked to solve problems, and physics gave him far more tools to solve problems than any other discipline. At first, he was contemplating engineering, but when he learned that students got PAID to go to graduate school, he knew he could endure a few more years of school to solve some interesting problems. If one were to categorize Karl in a single word, it would be "hippie", but he likes to think that "hippie" only describes 80% of his personality. Yes- he has long hair, yes- he has a compost pile, yes- he has a couchsurfing profile, yes- he (mostly) eats vegetarian, and yes- he gives off endless effortlessly cool good vibes, but he also was a sports jock in a previous life, so he likes to regularly exercise and stay in shape. He breaks the hippie mold in this and many other ways.

Karl once traveled to China and had the opportunity to climb on top of the Great Wall of China under cover of night and sleep in a tent overnight to watch the sun rise the next morning. Since such an activity isn't necessarily endorsed by the Chinese government, Karl can neither confirm nor deny that he took advantage of this opportunity.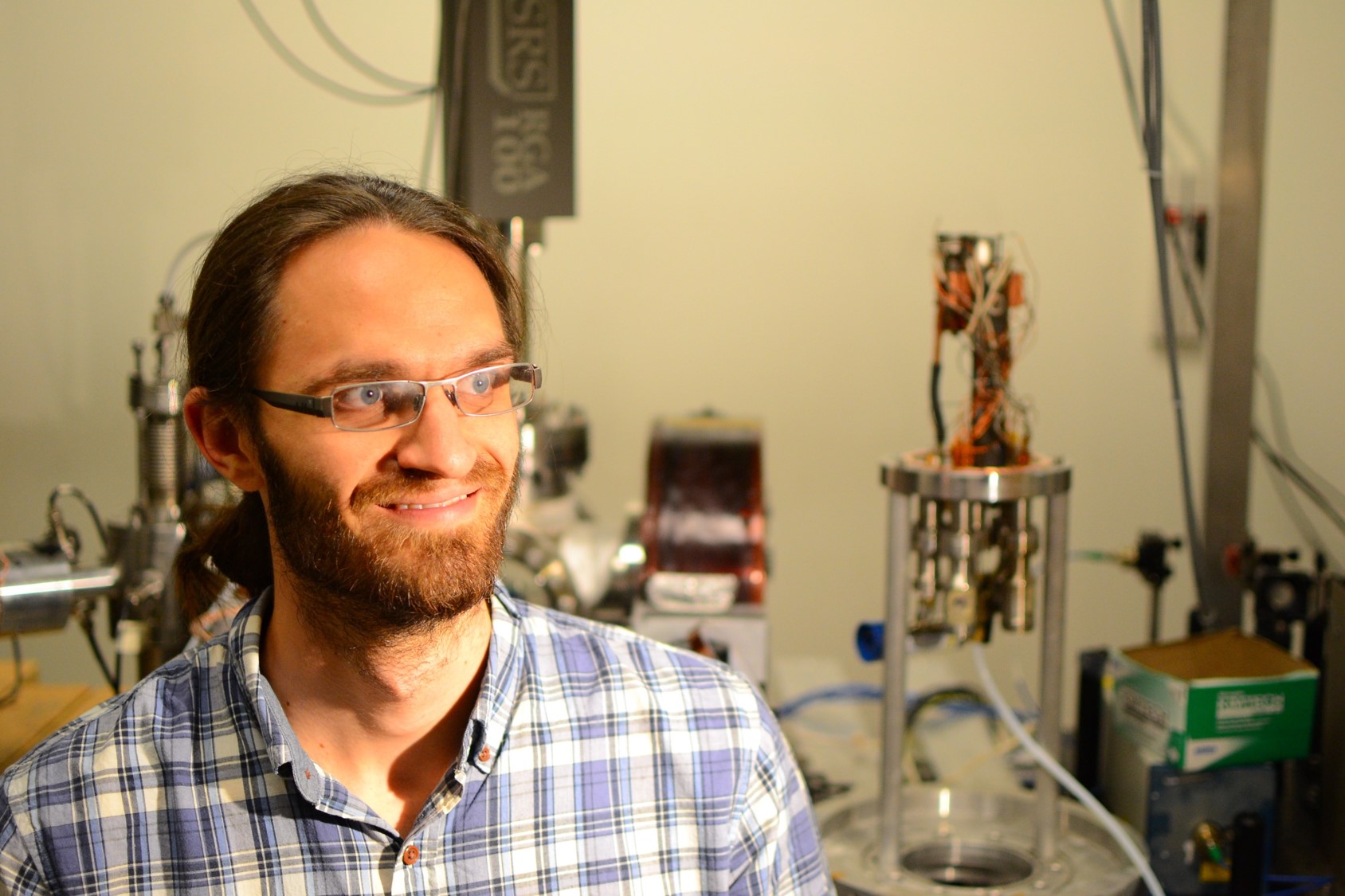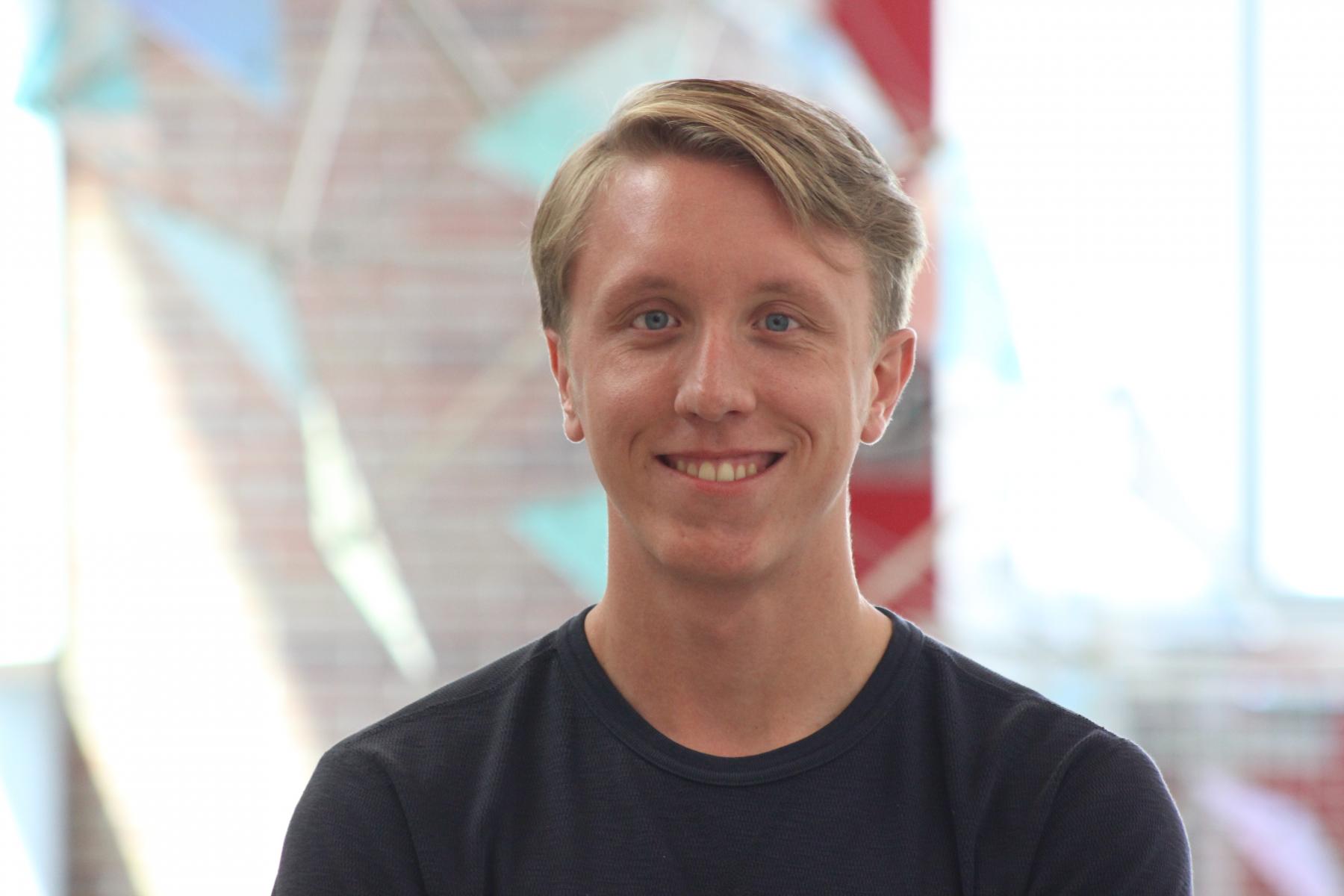 William Newman
William was born in Atlanta, Georgia and grew up in the small town of Newnan, Georgia for his early life. William's first desire to pursue physics came while reading Death by Blackhole by Neil DeGrasse Tyson in the section describing the process of a star going supernova. He continued to study physics at Berry College achieving a B.S. in Physics and Mathematics. During his time at Berry, William discovered his interest atomic, molecular, and optical physics. He continued his career in physics by attending the University of Nebraska-Lincoln as a Ph.D. candidate. Thanks to Dr. Tim Gay's encouragement, William joined his research group and currently works on creating a fast bright spin-polarized source of electrons which is both interesting and satisfying. In his spare time, William is interested in applying exercise science, both in the gym and with rock climbing. William also performed in many plays in his undergrad and high school years and hopes to do more in the future. William also expresses his artistic side through cooking and Dungeon & Dragons.
Quin McKnight
Quin discovered his love of physics while reading "Physics of the Impossible" by Michio Kaku, realizing that physics is the path to making science fiction dreams reality. This led him to earn his bachelor's degree in physics from Brigham Young University while doing research in Scott Bergeson's research lab, studying the interactions of ionic calcium and ytterbium. During his time in undergraduate he took a two year break to perform volunteer missionary service in and around Tokyo, Japan, fulfilling a life dream of visiting the origin of many of his nerdy interests. Additionally, it was during his undergraduate study that he met the love of his life, Christina, playing in the same Dungeons and Dragons group together. They continue to use Dungeons and Dragons as an effective relationship strengthening hobby.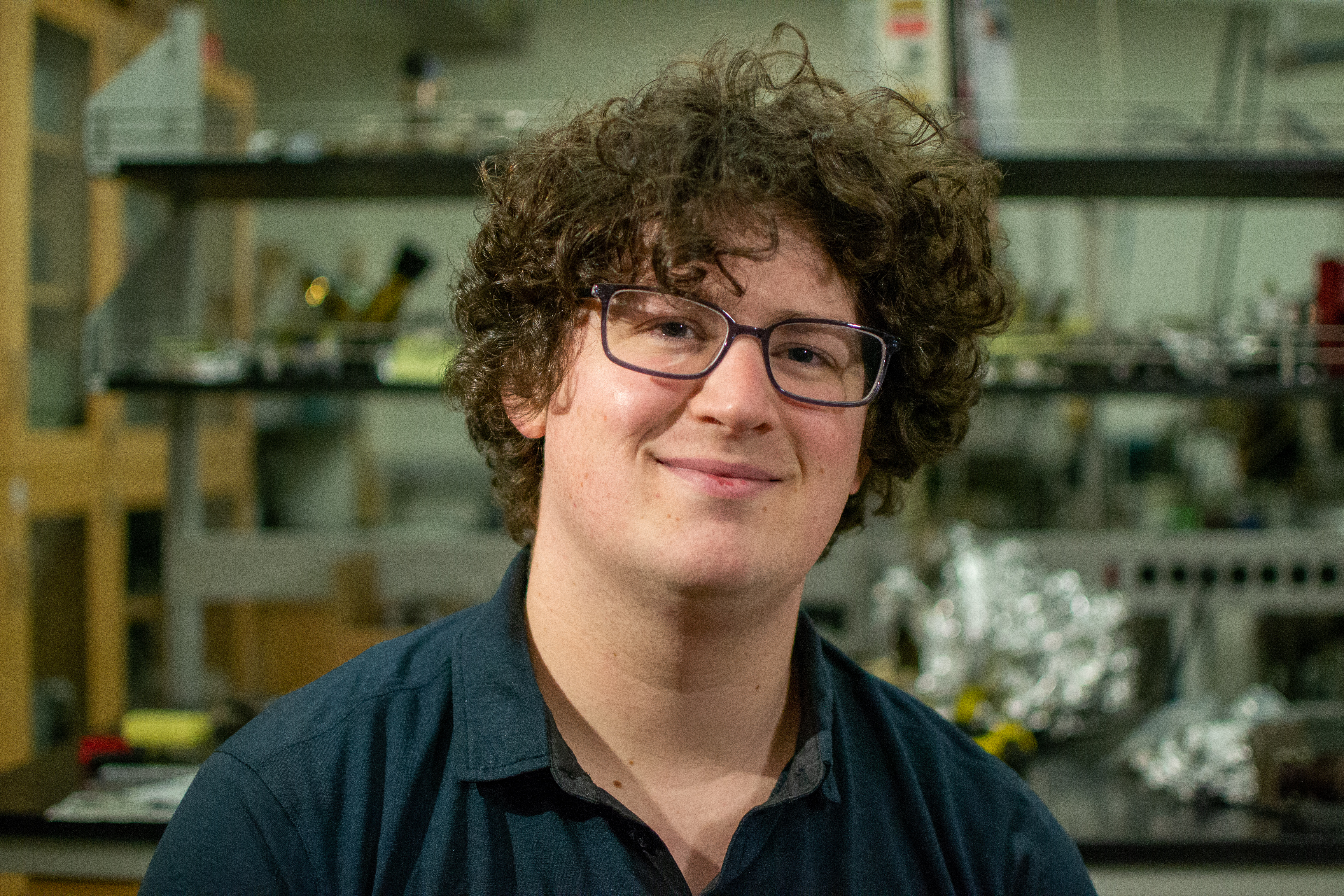 Undergraduates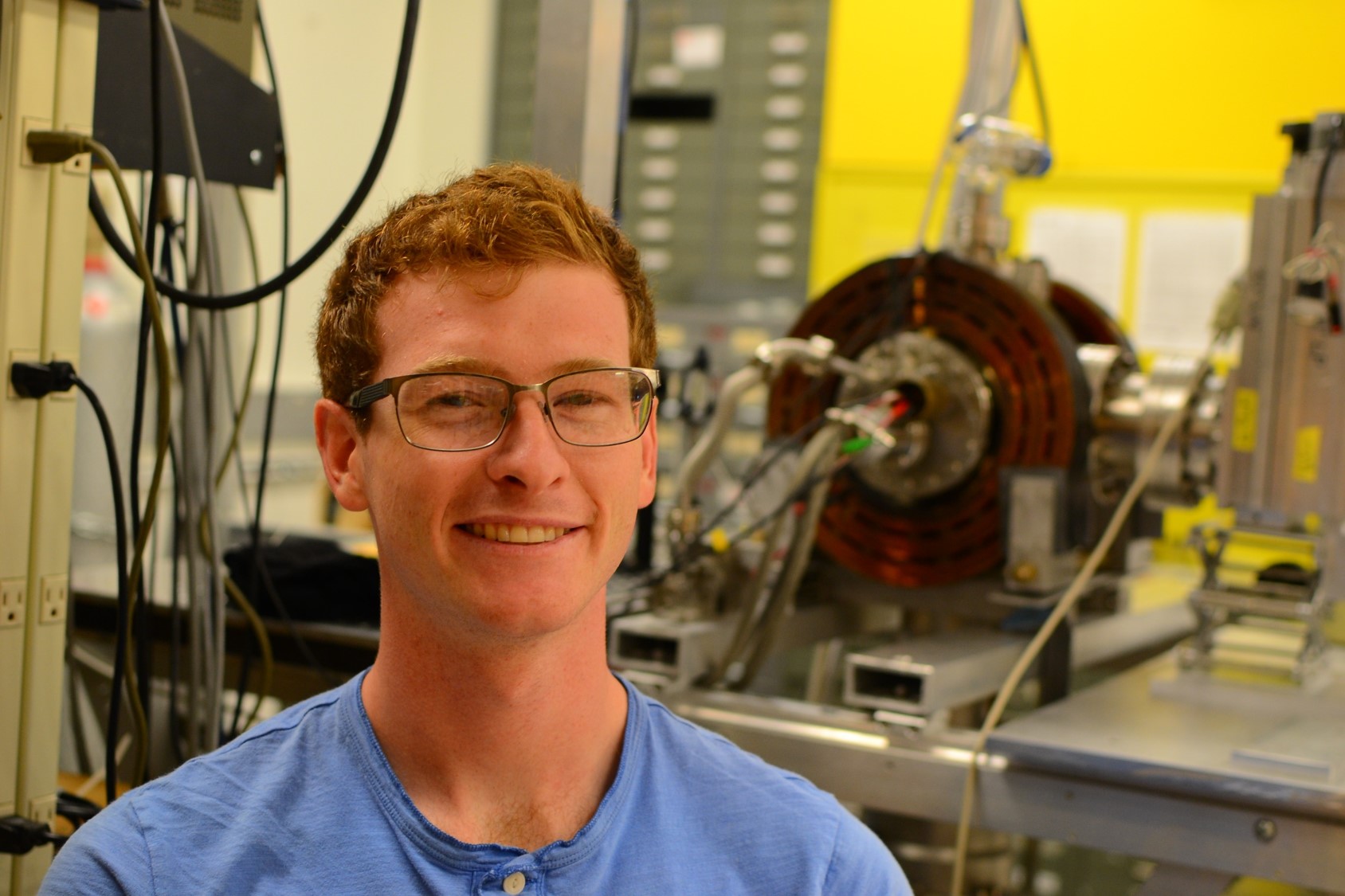 Jesse Kruse
Jesse is a senior at UNL double majoring in physics and mathematics. He grew up in the small town of Hartington in northeast Nebraska, and from an early age he was fascinated by physics. Since joining the Gay group, he has built and tested a beam-splitting polarimeter for the rubidium spin filter experiment, he tested the effects of buffer gas on the rubidium absorption profile, and he is now working on revitalizing the near-threshold electron-noble gas collision experiment in the Gay lab. During the summer of 2019, Jesse participated in the University of Michigan REU at CERN characterizing photomultiplier tubes for the calorimeters and scintillators of the FASER detector system. FASER is an experiment designed to find dark matter candidate particles like dark photons, dark Higgs bosons, and axion-like particles. In addition to being passionate about physics, Jesse sings and beatboxes in the UNL acapella group Rocktavo, goes on long bike rides around Lincoln when the weather is nice, and plays Dungeons & Dragons with his nerdy friends.
Will Brunner
Will is a junior at UNL majoring in physics and math. He is from Wheaton, Illinois. Although it took time to understand why, Will always knew that he wanted to become a scientist, and he attended many programs and open houses at nearby Fermilab. Here in the Gay Group, he assists projects such as the Rubidium Spin Filter and near-threshold experiment with modeling and simulations. Outside of his exciting research for Dr. Gay, he plays trombone in the Cornhusker Marching Band and is the president of The UNL Juggling Club. His other hobbies include cross-country unicycling and video games-especially classic platformers.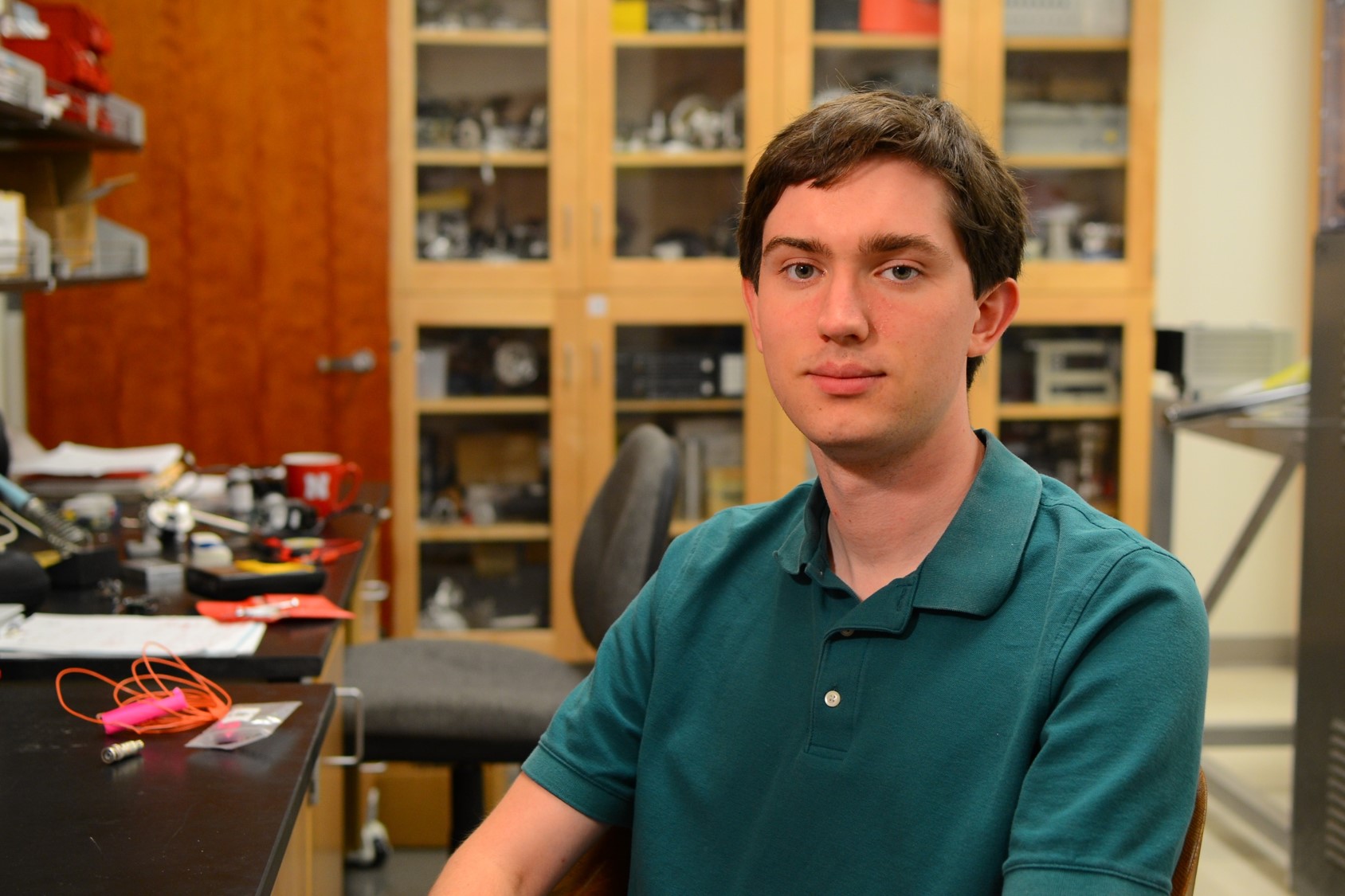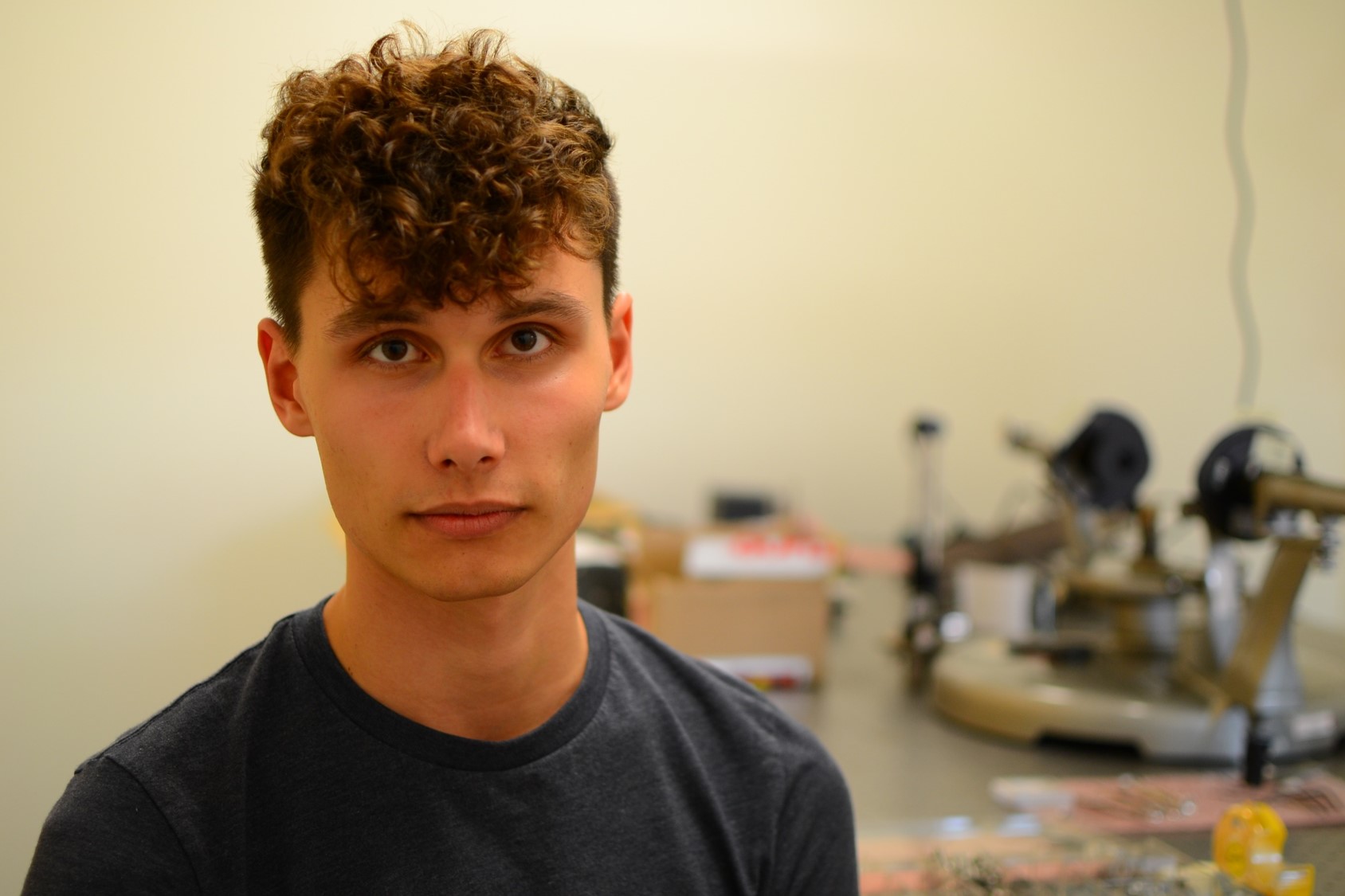 Ethan Gubbels
Ethan is a senior undergraduate physics major at the University. He grew up and attended school in the small town of Arlington, Nebraska where the cornfields were aplenty and the physics education was sparse. Despite this, he developed an aptitude for science and mathematics at an early age and wasted no time in exploring this strange new world of physics. After a brief stint where he considered pursuing a future career in engineering, he reluctantly made the life-altering decision of studying physics instead. He continues to be passionate about science education and artistic escapades, and is honored to be a member of the Gay Group. He is the Gay Group Webmaster.
Sarah Reyes
Sarah's bio information here.